PAWesome Summer Activities for You & Your Pup!
Looking for the PAWfect way to spend the summer with your canine companion? Here are just a few of our favorite ways to beat the heat while making a splash with our best furry friends.
Wine? Beer? Oh, heck yeah!
Like us, you may enjoy a drink or two on a hot summer day. If relaxing outside of your favorite winery or brewery sounds like an ideal way to spend the summer, consider bringing your furry friend along! Most wineries and breweries allow pets (always check before arriving, though) and nothing makes a cold drink taste better on a hot summer day than enjoying with your best friend at your side. Plus, some locations, like Downtown Drafts in Gainesville GA, even have ice cream to purchase for your pups so they can have a treat, too!
Dog Park
This one seems like a no-brainer, but it can often be easy to forget about dog parks! Make sure you keep an eye on the weather, though, as dogs can often overheat while out playing outside… especially on those hot summer days when the temperature keep climbing! Need help finding a dog-friendly park? Try Bring Fido! It's an awesome way to find pet-friendly places near you!
Make Your Own Water Park
If you're like us, there's nothing you enjoy more on the internet than a good video of a dog playing with a sprinkler. Thankfully, dogs love cooling off with sprinklers, cheap kiddy pools or even a hose! Sometimes that is all it takes to make summer fun for our canines (and it's fun for us to watch, too!).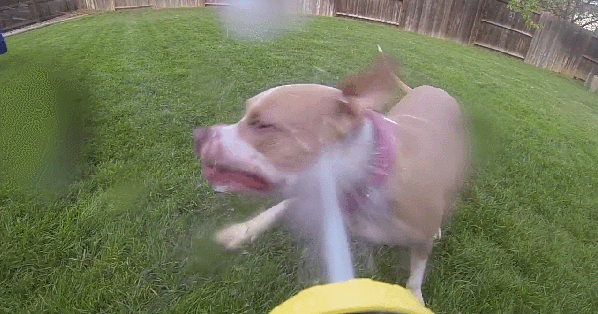 Pooch Pontoon
Sprinklers not cutting it? Consider taking them out for a day at the lake! One way to do this is with the help of the Pooch Pontoon. You'll get a fun boat ride and some time out on the lake, while your dog gets to run off-leash on an island and swim in Lake Lanier. Win-win!
Take a Trip or Go To a Public Lake
Is your furry friend not very boat savvy? No worries. There are tons of awesome public areas by Lake Lanier where you can get in some sun while they get to play in the water. Just be sure to brush up on the leash laws for the place you choose to visit! Also, consider taking your furry friend on a short vacation, as Airbnb and other sites allow you to filter for Pet-Friendly Locations.
Drive-In Anyone?
This one may seem a little strange, but if your dog loves car rides and you want to get out but the heat is too oppressive, consider going to a drive-in instead! These have become more popular thanks to Covid-19 guidelines and, best of all, it's your personal vehicle so pets are 100% allowed! So snuggle up and enjoy a good movie one evening with your furry friend in the comfort of your car/truck/van.
Don't forget that whatever activity you choose, you'll need to keep an eye on your pet's health as dogs are prone to overheating. Read our Summer Safety Tips at HSNEGA.org/summer-dog-safety/. 
Give with Confidence
At HSNEGA, we want to remember the amazing rescues that come to stay with us. All of the animals pictured on this site have been with us at some point. Some have already found their forever homes, but some may still be here at HSNEGA! The Humane Society of Northeast Georgia is a 501(c) (3) non-profit organization (Federal Tax ID #58-0678817) and has received top recognition from the following charity rating organizations: